Towards the latter half of 2021, we ran a Web Consultation for Aiskew & Leeming Bar Parish Council. This included a full site overhaul, undertaking tasks such as streamlining their site with the goal of making monthly updates as easy as possible, maximising usability, running full accessibility checks and bringing the site up to WCAG 2.1 AA standard, and optimising their sites SEO. Along with this, we also spent time making sure their site was visibly pleasing, and easy to navigate. We also undertook some content consultancy for their site, including making galleries, researching the parish, creating new pages, and writing content for the existing pages.
Site Overhaul
At the start of this process, we had a consultation meeting with the parish clerk to discuss what they wanted from the site, and what ideas they may have had.
Document Organisation
Our first focus was the document organisation. Each month, the parish clerk updates the website with minutes, the following meetings agenda, and any information that will be covered in the next meeting. We wanted to make this as simple as possible, and remove the need to also go through the rest of the site and update the documents everywhere they are displayed. We created easy to navigate folders in the back end of the site to streamline the monthly updating process that the Clerk undertakes. Along with this we also created crib sheets to guide the clerk through the site updating process.
Easy to Navigate
Next, we rearranged their Main Navigation Menu to optimise the sites usability, and help site visitors find what they need quickly. Using the site analytics we created a navigation menu that highlighted the most visited pages of the site- this included the allotments page, their councillors profiles page, and their bins collection day page. Along with this, we also made sure that any information they are required to have available was easy to find and accessible to anyone who may need it.
Optimising Features
We then started to optimise some of WCSs great features. We set up profiles for the councillors, using our profiles display feature. This moved them away from using a simple table for their profiles.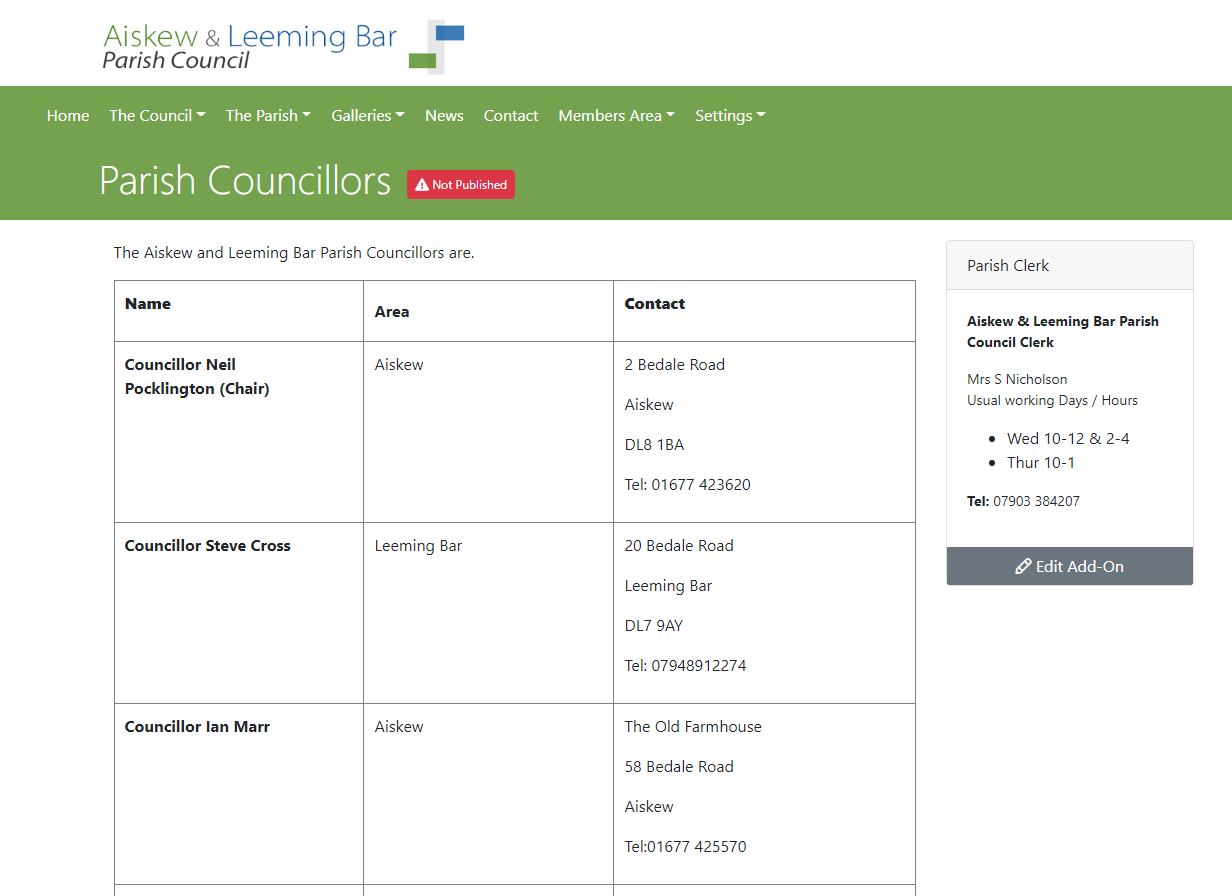 Before
Using just a table to display Councillors information can cause problems for people using mobiles, and is not responsive. Along with this, screen readers can struggle to read a table.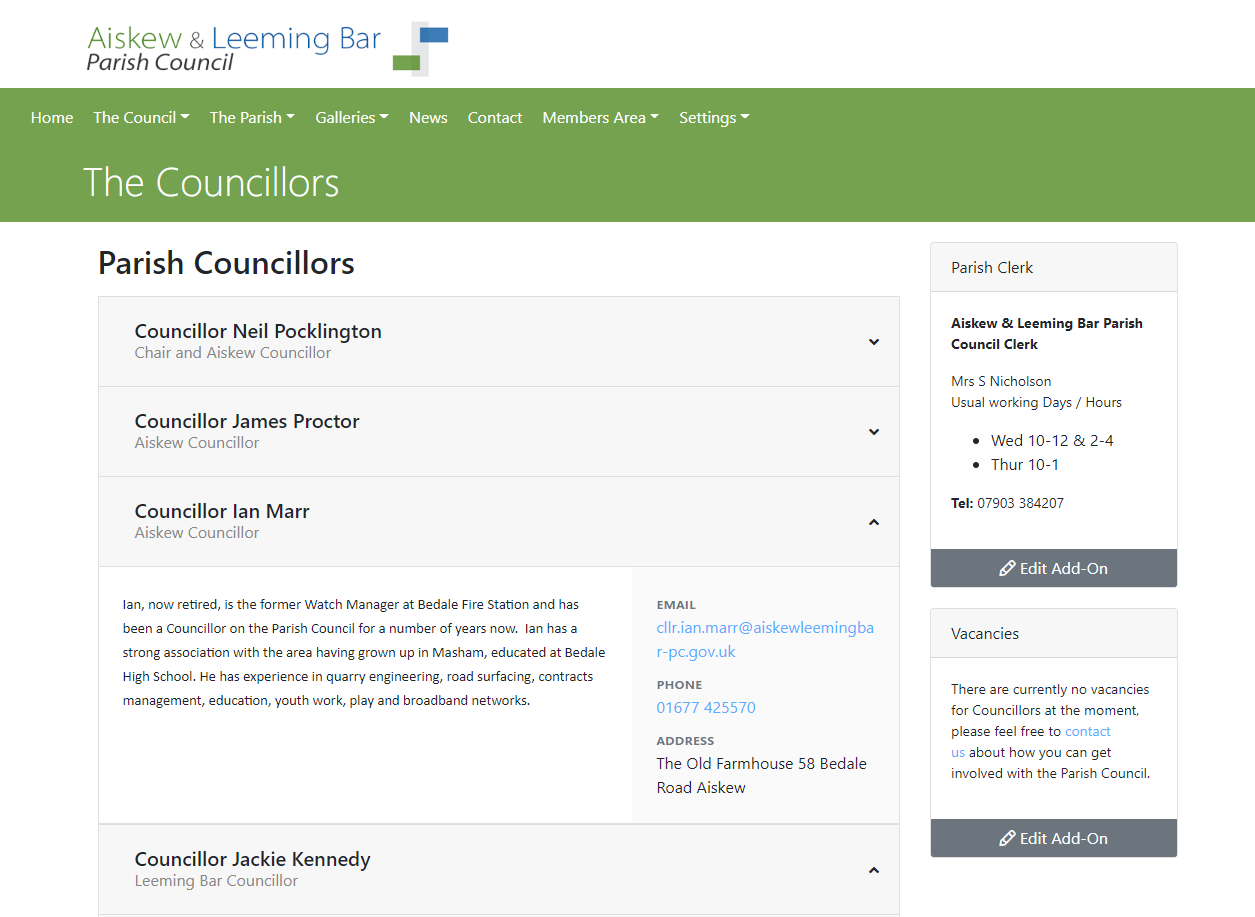 After
Using our Profiles feature avoids all of these problems, along with it being expandable to display more information. With this display style, you can also choose which information you wish to be displayed and which you don't.
Page Organisation
We spent time organising information onto pages for the best user experience. Content relevant to eachother have been added to one page, making finding the information quick and easy for site visitors.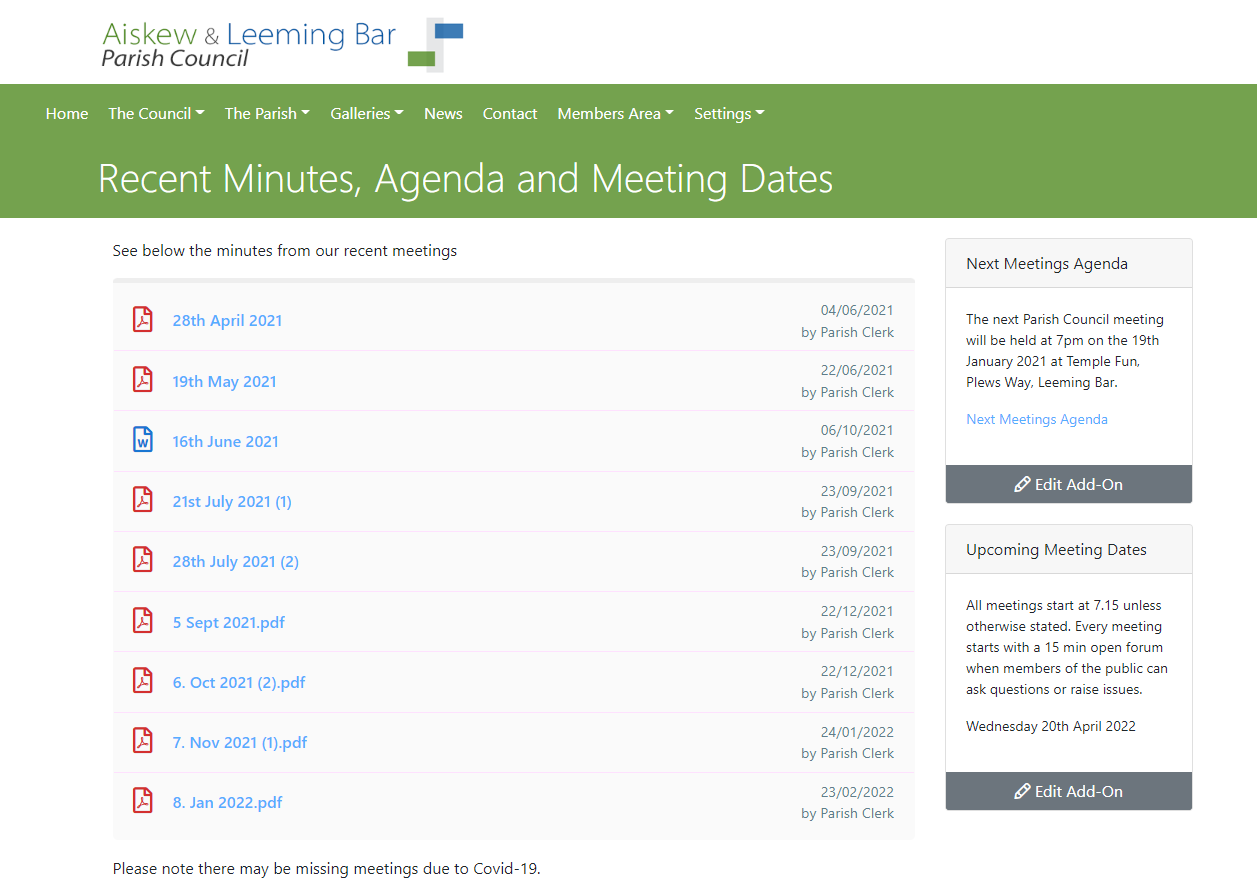 Recent Minutes, Agenda and Meeting Dates Page
To make their site easier to navigate, we merged some pages together. The site originally had separate pages for Recent Minutes, Upcoming Meetings Agenda, and their upcoming meeting dates. We rolled all these pages into one, to keep all information about recent and upcoming meetings in one place.
By utilising our add ons, we keep information all on one page, instead of having multiple pages that are sparsely populated. This also keeps the Main Navigation Menu of the site simpler to use, and means that site visitors don't have to skip between too many pages to find related information
Accessibility Overhaul
Accessibility is an important factor in having a public sector website. People may not have a choice when using a public sector website, as the information may not be available from anywhere else, so it's important they work for everyone. We ran an accessibility check and corrected any links which did not work anymore, and added alt text to any images without it. Along with this we re-wrote some content and added better formatting, to make the structure of the text clearer.
Content Consultation and Creation
Alongside overhauling the content of the site, we also undertook some content consultancy. This meant us spending time researching the parish, creating content like galleries and new pages, and adding to new pages.
Photography
Finally, we went out into the parish to take photographs to populate the site. We took photos of the playparks, allotments, and places of interest in the parish.
Galleries
We spent time searching for information about the parish, and proceeded to make some galleries showcasing the past of the parish, the beauty, the listed buildings in the parish, and the Wensleydale Railway. This has created a section of the site devoted to illustating the community of the parish.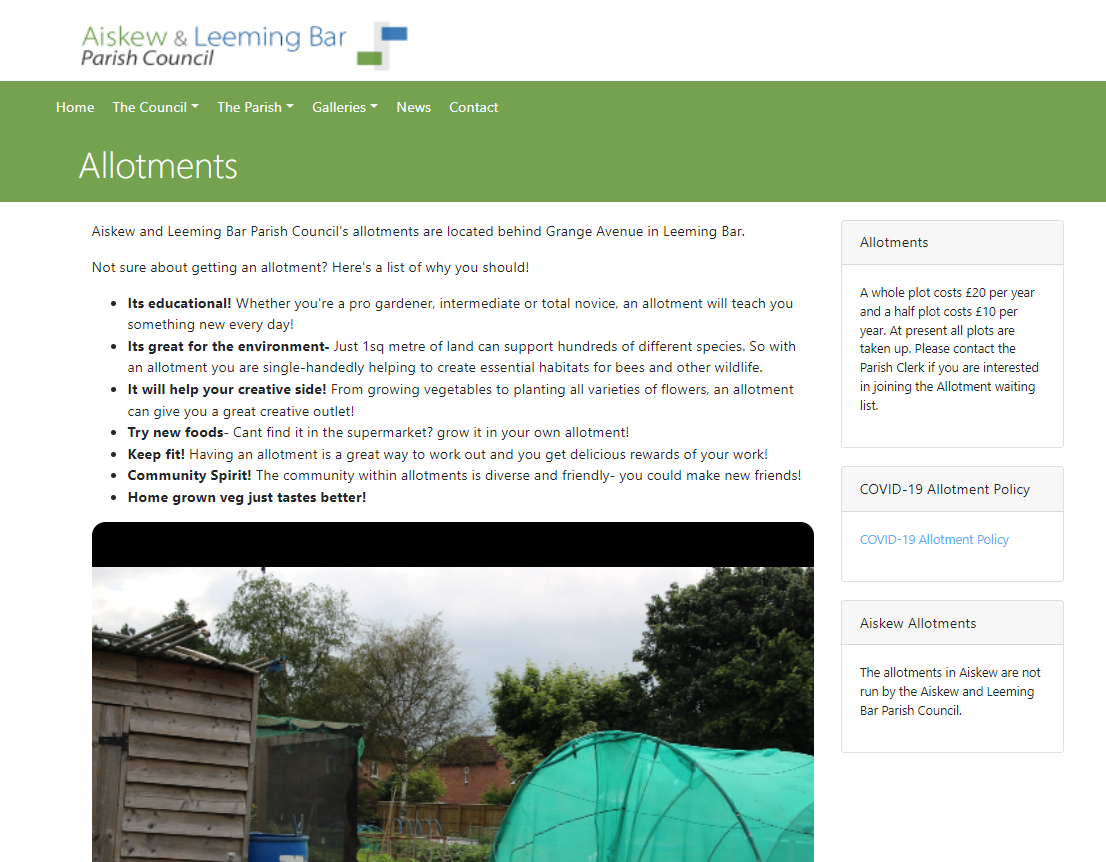 Page Content Creation

We also created content for some of the pages on the site. We found that some pages were required, but did not have large amounts of information to display. In these cases, we created relevant content to fill the space. On the 'Allotments' page for example, we created a list of reasons to get an allotment, along with creating a gallery for the page of images we had taken of the allotments.
Published: 11/05/2022 Published by: WJPS
Return to News Page.